Scottish Pure Apple Cider (Low Alcohol)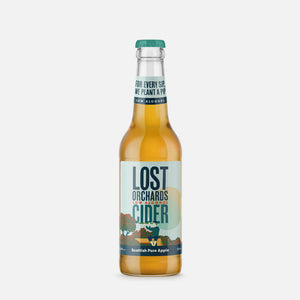 Pack Size: 12x330ml
Scottish Pure Apple is our original cider. Carefully selected and hand picked 'Katy' apples are harvested and processed on site to ensure quality and flavour.
Crafted carefully over time we wash, press and process the apples. We use champagne yeast to ferment the freshly squeezed juice and then store the liquid in stainless steel pods and leave to rest and ferment till the optimum flavour is reached. Never rushed, perfect every time.
Our Low Alcohol Scottish Pure Apple cider is a light refreshing cider created with a blend of sweet Katy and Red Windsor apples to provide a crisp balanced clean apple finish.
We want you to taste every apple we put into our cider: that's why we recommend serving chilled without ice.
All Lost Orchards Cider products are Gluten Free. 
Please note - if your order contains more than 1 case, they may be sent separately to avoid breakage.